DIRECT BUS SERVICE FROM GALT TO SACRAMENTO
Relax in a comfortable reclining seat, surf the net on your laptop or smartphone, read the paper, watch a DVD on your laptop, or simply catch up on sleep as you enjoy your ride in our full-sized, climate-controlled motorcoach.
SCT Link offers wi-fi equipped, express commuter bus service on Highway 99 from Galt City Hall to Midtown and Downtown Sacramento Monday thru Friday. The Commuter motorcoach is lift-equipped. Your bicycle can ride safely in the cargo area.
The Commuter Express connects at Galt City Hall with SCT Link's Hwy 99 Express, Delta Route, and Díal-A-Ride services.
HOLIDAYS
There will be no service on the following holidays: New Year's Day, Martin Luther King Jr Day, President's Day, Memorial Day, Independence Day, Labor Day, Veteran's Day, Thanksgiving Day, the day after Thanksgiving Day, Christmas Eve, and Christmas Day.
FOR TRIP PLANNING ASSISTANCE
PARA ASSISTENCIA CON SU VIAJE
SCT LINK 209-745-3052 800-338-8676 www.sctlink.com
SACRAMENTO RT 916-321-2877 www.sacrt.com
No person on the basis of race, color, or national origin will be subjected to discrimination in the level and quality of transit services or related benefits. For additional information regarding our non-discrimination policy and procedures to follow in order to file a discrimination complaint visit the www.sctlink.com website or call (209) 745-3052.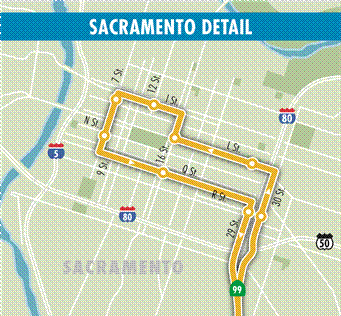 COMMUTER EXPRESS SCHEDULE
Bus Stop

AM

AM

PM

PM

Galt City Hall

6:25

6:50

3:40

4:40

Twin Cities Park & Ride

6:35

7:00

3:50

4:50

Sacramento

30th St at R St

7:00

7:25

4:15

5:15

L St at Sutter's Fort

7:06

7:30

4:21

5:20

L St at 16th St

7:10

7:35

4:25

5:24

I St at 12th St

7:15

7:38

4:30

5:32

7th St at J St

7:16

7:41

4:31

5:36

7th St at O St

7:19

7:46

4:34

5:40

Q St at 11th St

7:22

7:50

4:37

5:45

Q St at 16th St

7:25

7:55

4:40

5:48

29th St at R St

7:30

8:00

4:45

5:53

Twin Cities Park & Ride

7:55

8:25

5:10

6:25

Galt City Hall

8:05

8:35

5:20

6:35
FARES
General
$4.00
Senior (65+)/Disabled
$2.00
Mayores (65+)/Discapacitada
Youth (Ages 5-12)
$2.00
Niños (Edad 5-12)
Monthly Pass
$120.00
Pase Mensual

---

Disabled includes disabled persons with a Medicare/ Medicaid card or other proof of disability.
If a rider with a disability needs a personal care
attendant (PCA) to assist with the trip, the PCA will not be charged a fare for the trip.
Discapacitados incluye una persona discapacitada
con una tarjeta de Medicare/Medicaid o otra
prueba de discapacidad.
Si un pasajero discapacitado necesita un asistente
personal (PCA) que lo ayude en el viaje, a el
asistente no se le cobrara una tarifa para el pasaje.
Connect Card is the region's reloadable transit card.
It is accepted on 9 transit agencies in and around
Sacramento. You can load passes and/or cash value on your Connect Card. Visit www.connecttransitcard.com,
Galt City Hall, or the SCT Link office to get your card.
Connect Card es la tarjeta de transito recargable de
la región. Se acepta en 9 agencias de transito en
Sacramento y sus alrededores. Puede cargar pases
y/o valor en efectivo en su Connect Card. Visite
www.connecttransitcard.com, Galt City Hall o la
oficina de SCT Link para obtener su tarjeta.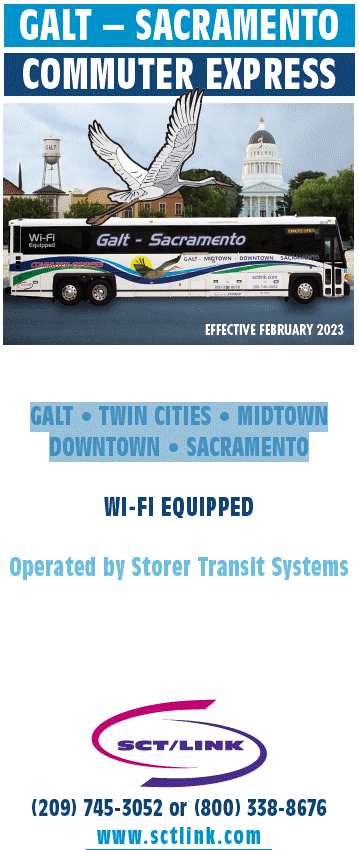 SERVICIO DIRECTO DE GALT A SACRAMENTO
Relajese en un sillon reclinable, navegue la red en su computadora portatil, telefono celular, lea el periodico, mire una pelicula DVD en su computadora portatil, o simplemente disfrute la libertad de poder tomarse una siesta mientras disfruta su paseo con aire acondicionado en nuestro autobus de capacidad completa.
SCT Link ofrece ahora equipado con wi-fi, el autobus Commuter Express que da servicio directo en la autopista 99 saliendo del municipio de Galt hacia el centro de Sacramento de Lunes a Viernes. El autobus Commuter Express viene equipado con elevador. Su bicicleta puede ser transportada seguramente en el compartamento de cargamento del autobus.
El autobus Commuter Express se conecta en la cuidad de Galt con otros servicios de SCT Link como Hwy 99 Express, Delta Route y Dial-A-Ride.
DÍAS FESTIVOS
No habra servicio en los siguientes dias festivos:
Dia de Ano Nuevo, Dia de Martin Luther King
Jr, Dia del Presidente, Dia de Soldado Caido, Dia de la Independencia, Dia del Trabajo, Dia del Veterano, Dia de Accion de Gracias, El Dia despues de Accion de Gracias, Nochebuena y Navidad.
Ninguna persona sobre la base de la raza, el color, el origen nacional sera objeto de discriminacion en el nivel y calidad de los servicios de transito o de otras prestaciones conexas. Para obtener informacion adicional sobre nuestra poliza de no discriminacion y procedimientos a seguir con el fin de presentar una queja por discriminacion visita nuestro website www.sctlink.com o llame a nuestra oficina al (209) 745-3052.